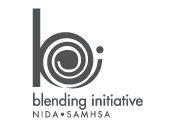 This site represents a collaborative "Blending" Product from the National Institute on Drug Abuse and the Substance Abuse and Mental Health Services Administration Blending Initiative. The purpose of the product is to provide information, videos, training, and other resource information for implementing technology assisted treatments/care to improve the quality and reach of treatment services for persons with substance use disorders.

TES Testimonials
Therapeutic Education System (TES) is an interactive, web-based psychosocial intervention for SUDs. The blending Initiative Team visited multiple treatment agencies throughout the country and filmed testimonials of people that have used these interventions in their programs. Learn from their experiences and even see a few clients that participated in the programs.

TES Research

TES has been the subject of a growing number of research studies which are identified in the following material. Evidence has accumulated that supports the clinical benefit and appropriateness of this web-based intervention as an adjunct and extender of effective clinical practice.
Technology Assisted Care

Technology Assisted Care (TAC) refers to the use of technology devices to deliver some aspects of psychotherapy or behavioral treatment directly to patients via interaction with a web-based program. TACs as used on this site may involve the use of computers, tablets, or mobile phones, and may involve web-based support groups, virtual reality sites, interactive voice response, and even video games. All the interventions described on this site are computer-based interventions. Research evidence has accumulated for the beneficial effects of interactive web or mobile technologies which extend clinical interventions for Alcohol Use, Tobacco Cessation, Illicit Drug Use, and Gambling. Check out these examples of Technology Assisted Care: